The Primary Keys to Successfully Market & Sell Your Home
Selling your home in today's real estate market requires an agent to be knowledgeable, insightful, and adaptable for our market conditions are fluctuating daily.
Each step I take to sell your home is critical and important. My approach to selling your home requires experience, creativity, and passion. I am dedicated to each one of my clients to diligently work with my resources at HomeSmart and the very best team of professionals in the industry today. My Three Phased approach to selling your home is as follows:

Phase One: Develop a marketing plan that will address the unique value of your property
· Setting the stage: I offer staging advice, recommended enhancements, and home repairs enhancements if needed.  
· Pricing the property: A full view of the market is analyzed through comparative market analysis.
· Professional photography: Projecting the right image is critical in attracting the right buyers to your property.  
· Define and highlight the distinctive features of your home for optimum marketing. The use of video and drones can also showcase the unique lifestyle characteristics of the home.
· Highest quality print materials: Four-color brochures are utilized highlighting distinctive lifestyle characteristics of a home as well as other community amenities such as pools, golf, clubhouses, and much more.
Phase Two: Attracting attention and managing showings
· Presenting online: Placement of property on the most widely used search engines and websites such as www.HomeSmart.com, www.GoLisaHomes.com, www.NorthGatePhoenix.com, www.Trulia.com,  www.Zillow.com, www.Realtor.com, www.HomeFinder.com, and much more…over 1,000 search engines and consumer websites.
· Individual property website for each home. 
· In some cases community videos with the use of a drone.
· Educate buyers on the benefits of living in specific communities through personal tours (this can be done virtually as well).
· Realtor/Buyer outreach: Agent emails, realtor tours, open houses, realtor blast, and social media platforms such as Facebook and Instagram.  
· Real-time technology using handheld devices to react quickly to interested parties. Interested parties can text, call, or visit www.HomeNearMe.com for immediate information or download the Homesnap app.
· Target direct marketing: Four-color postcard mailings are sent to the most appropriate target market such as neighborhoods and developments. Targeted proprietary database contacts are utilized through emails and print advertising such as Lisa's American Lifestyle Magazine.
Phase Three: Negotiating and closing
· True commitment to negotiate the best price possible.
· Solicit backup offers.
· Prepare net sheet itemizing expenses and estimated closing costs.
· Oversee lender deadlines, appraisals, and home inspections.
· Manage critical dates and schedules.
· Conduct weekly conferences with a closing company, mortgage consultants, and attorneys.
· Review closing documents and attend your scheduled closing.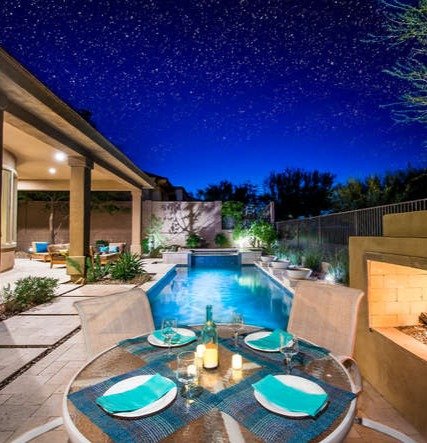 Lisa Adam Blair, REALTOR® with HomeSmart
8388 E Hartford Dr, Suite 100
Scottsdale, AZ 85255
Monday9:00 am - 5:00 pm
Tuesday9:00 am - 5:00 pm
Wednesday9:00 am - 5:00 pm
Thursday9:00 am - 5:00 pm
Friday9:00 am - 5:00 pm
SaturdayClosed
SundayClosed